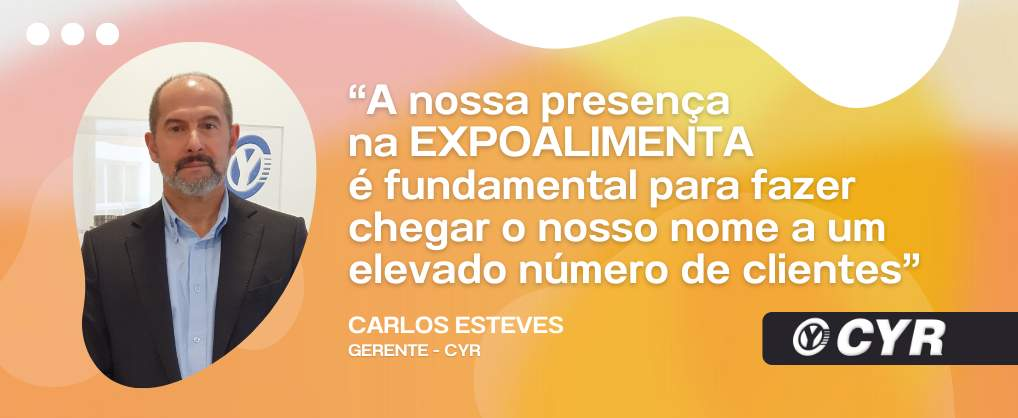 CYR: "Our participation at EXPOALIMENTA is vital to make our name known to a large number of clients".
The focus on the food sector has boosted the results of CYR, which has now decided to join EXPOALIMENTA. This is the first exhibiting and therefore the company's expectations are high. "We want to make potential clients in this area aware of CYR's positioning and the brands it represents", mentioned manager Carlos Esteves.
---
What are CYR's expectations regarding EXPOALIMENTA?
This first participation of CYR at EXPOALIMENTA is the result of the increasing focus on the agri-food sector, a corollary of the start of distribution of Continental hoses. As such, our expectation is to make potential customers in this area aware of CYR's positioning and the brands it represents, which also have specific products for the agri-food sector.
Continental's food hoses will be CYR's main bet at EXPOALIMENTA? What distinguishes this new product?
Being CYR involved with the brand in the launch in Portugal of Continental's thermoplastic and rubber hoses, this will be one of the main bets in the show.
Continental's hoses, both the thermoplastic range, which was added to the portfolio with the acquisition of Merlett, the most recognized European producer of these hoses, and the rubber range, are distinguished, in addition to the obvious quality of the product offered, by the very wide range of hoses, each with specific applications that meet the needs of industry, and fundamentally by their certification for use in this sector.
Will there be other products/services featured during the exhibition?
Besides Continental we will highlight NTN, which has in its Sentinel product line a dedication to the food sector, with innovative features that differentiate them from all the products in the market aimed at this sector.
What are the company's goals by participating in the event?
This will be CYR's first participation in an event of this size, and comes after years of work to prepare the coverage of the national territory with a network of sales representatives, supported by a portfolio of products aimed at industry and agriculture, and that are distinguished by quality and added value for our customers. With this operational goal almost achieved, our presence is essential to make our name reach a large number of customers, and demonstrate our ability to serve the customer with quality, transparency and seriousness.
CYR presents itself as an innovative company. How would you describe the work developed by CYR and what innovations it has brought to the sector?
CYR has been developing its product portfolio, based on reference brands, to become a preferred supplier to industry and agriculture, with an offer that allows any customer, for any component or consumable, to see us as the solution to their needs. This positioning is accompanied by a policy of quickly satisfying customer requests, which for what we have in stock means 24 hours, and a close connection with our suppliers so that the satisfaction of what is not in stock is short.
To make this possible, in addition to the existence of a high value of items in the warehouse, we have invested in an ERP that allows us to simplify and automate customer order fulfillment processes, and an online store, simple to use and with the necessary information, which has the great advantage of saving the customer a lot of consultation and ordering time, and ensuring a speedy internal process that results in the reduced delivery times that we practice.