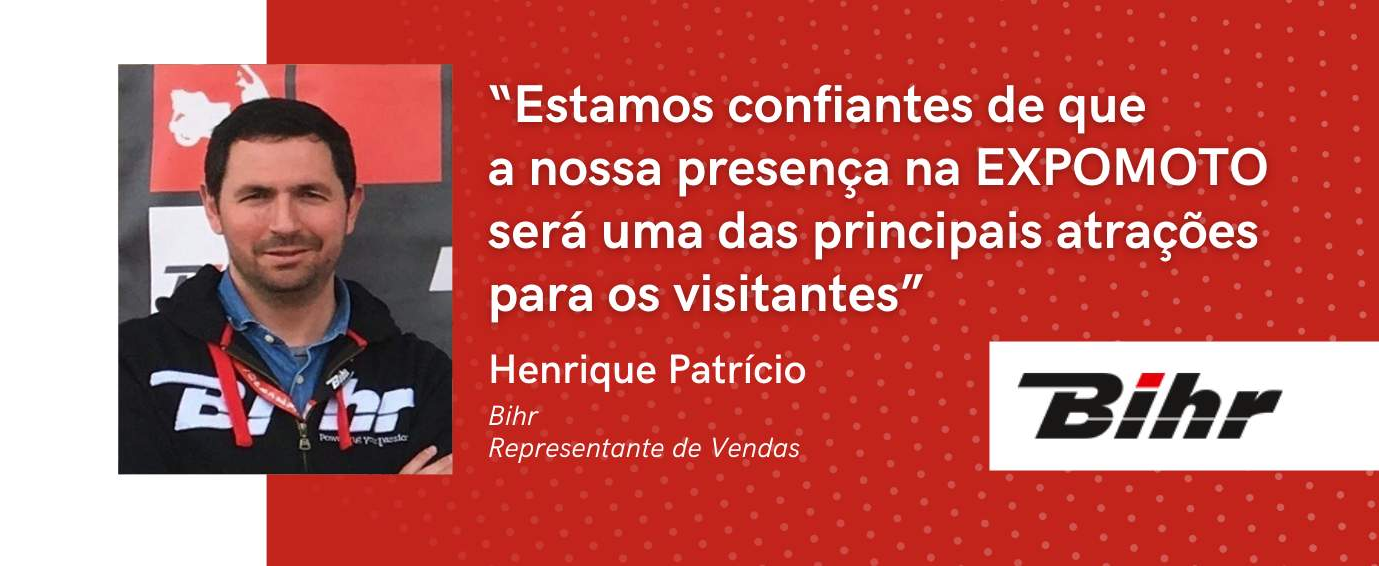 Bihr: "We are confident that our presence at EXPOMOTO will be one of the main attractions for visitors"
A little over two weeks before the start of the next edition of EXPOMOTO, Bihr confirms its participation and is excited to present its innovations to visitors. "We are finishing the last points to launch the new Web B2B platform and Novic", said Henrique Patrício, Sales Representative of the brand.

---
How is Bihr monitoring the recovery of the sector's activities?
Despite all the difficulties created by Covid-19, the War in Europe, and inflation in Portugal, we remain focused on being the "One Stop Shop" for professionals in this sector and on offering the best service in the market.
Bihr continues to grow in all markets and, in the particular case of the Portuguese market, we are in line with the goals set.
What is the importance of Bihr's participation in EXPOMOTO?
We see this participation as an excellent opportunity to present our broad portfolio of the seven product universes: Street, Scooter, Off-Road, Quads/ATV/SSV/UTV, Tires, Workshop Equipment and Rider Gear.
What are Bihr's expectations for the fair?
We are optimistic and confident that our presence at this fair will be one of the main attractions for visitors.
We are honored to have Arai on our stand. Arai has a fantastic range with a reputation for unparalleled safety, also our own brand RST offers a wide range of clothing with and without Airbag and In Motion system already used by some riders in MotoGP.
What new features will be accessible to visitors?
Visitors will have the opportunity to learn about our workshop solutions for Moto and Ebike, Novic is our new helmet brand from Bihr, learn more about the 2022 collection from RST and Arai. The new B2B Web platform will also be presented, which includes new tools that aim to make our customers' day-to-day life easier and ensure a good service.
Bihr is distinguished by its diversified offer in motorcycle equipment and accessories. What differentiates Bihr's products from the rest of the market?
We feel that the Portuguese market highly values our portfolio, currently we represent about 230 brands, a large part of which are equivalent to OE, on the other hand, the quality of our service, efficiency and speed in sending orders are aspects that our customers also value at Bihr.
From the wide range you have available, is there anything new you are working on specifically to present at EXPOMOTO?
Yes, we are finalizing the last points to launch the new Web B2B platform and Novic at EXPOMOTO.
How did Bihr face the challenges brought on by the pandemic?
We had to adapt to the new reality, digital had a very significant impact on the way we started to communicate with our customers, within the organization we also had to adapt, we looked for new solutions and invested in stock to achieve customer satisfaction.