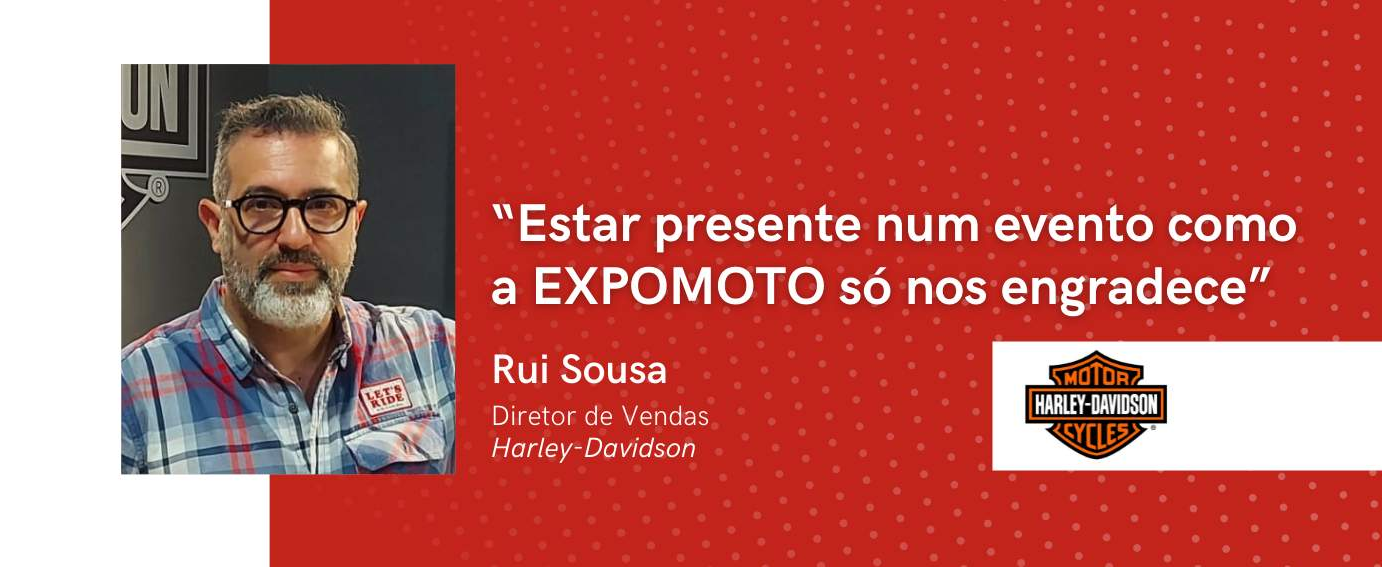 Harley Davidson: "Being present at an event like Expomoto only makes us better
EXPOMOTO adds a new heavyweight confirmation in the range of exhibiting brands: Harley Davidson. A reference in the market for several decades, the North American giant has worked hard to meet the market needs and remain at the forefront, surprising the public and connoisseurs around the world. Rui Sousa, Sales Director of Harley Davidson in Portugal, lifts the veil in relation to the presence of the brand in the biggest salon of the two-wheel world.

---
How is Harley Davidson keeping up with the upturn in the industry?
We see it with a lot of satisfaction. Even passing a more personal part, I see it as a joy. We try slowly despite all the news that keeps coming, first the pandemic and now the war, that discourages us. It is with great satisfaction that we see this vigor around the industry and the attempt at a new normality. We could not disassociate ourselves from the biggest event, even more so in our region. It is an excellent opportunity.
What is the advantage of participating in EXPOMOTO?
There are two points of view to take into account. The brand itself being well recognized by the general public it is not the presence in an event of this nature that will somehow bring more recognition or not. Of course, we couldn't not be there either. It seems a contradiction in terms. We all have to contribute to the aggrandizement of motorcycling and commerce. We have to be associated with these kinds of events so that they grow. For the brand, it is one more place where we will be exposed, which, although not decisive, is important. Being present at an event of this nature only makes us better.
What are your expectations for the next edition of the event?
In terms of direct sales it is not very usual for us to have a very big repercussion, because normally our bikes are in a very high segment. These fairs are mainly for people to dream about us. It is in this perspective that we participate. It is a work of continuity. We think it is very interesting to be present at EXPOMOTO for more dissemination so that people can continue to dream and, perhaps, make their dreams come true.
What new things are you going to present to the visitors?
We will have the Sportster™ S which was the last new thing introduced. The timing of the motorcycle introductions has made it difficult. Our brand is going through a lot of market problems, so we don't have everything we would like to have. Still, we will have a very varied range. We will certainly have something to surprise.
Besides the exhibition space, are you working on any action to surprise the public?
I can lift the veil by saying that we will possibly try to have an outdoor gathering of Harley Davidson motorcycles, which will surprise those who pass by the entrance and exit of the venue. I think we will be able to surprise. We are still trying to figure out how many tens or hundreds of motorcycles we will gather. I am convinced that we will not let anyone down. They are going to be very satisfied with what we present.
Being a brand with prestige and longevity, how have you worked adapting to the new arrivals in the market?
A brand like ours has very high expectations from the public. The client, as soon as he enters one of our spaces, always has a very high expectation. People idealize the brand as one of the most desired in the world and this forces us to make sure that each launch is the best experience in the world, whether for its aesthetic impact, reliability, and the production part. The brand has been updating and modernizing itself to keep up with market trends.
What are Harley Davidson's biggest challenges right now?
The very restrictive Euro5's force drastic changes at the industry level. Harley is perhaps one of the brands that suffers most from this because they have very long renewal cycles. Motorcycle changes are made in much larger spaces than usual, so it now has to slow down to keep up.